The design study of the Panzerkampfwagen (PzKpfw) VI Tiger I began in 1937 and it was in 1942 that it began to be produced. The two companies that are responsible for its construction are Porsche and Henschel.
It is a heavy tank (more than 50 tons) capable of passing through all kinds of obstacles and resisting the last tanks armed with the 85 mm gun (T34/85) while replacing the PzKpfw II and III which were not very brilliant against the French and British tanks in 1940.
Armed with a 88 mm gun that is none other than the excellent 88 mm Flak 36 gun mounted on turret, the Tiger I tank is equipped with a large shielding (between 8 and 10 cm of shielding according to the locations) Protecting it against the vast majority of anti-tank weapons and ensuring its invulnerability against frontal shots.
The tank PzKpfw VI received the name Tiger I in August 1942 and on March 5, 1943, he baptized fire on the Russian front at the Battle of Leningrad.
925 Pieces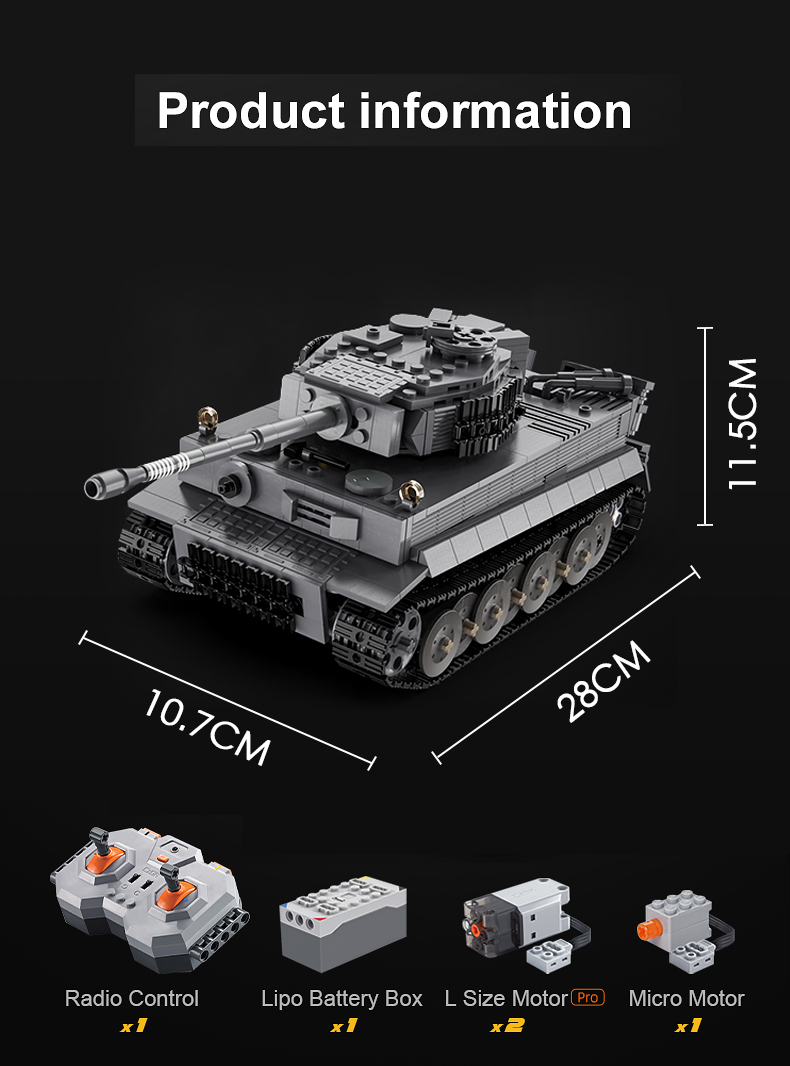 EVERY PRODUCT COMES WITH INSTRUCTIONS AND INCLUDES ALL PARTS
You will receive your item with all original parts. The contents of the package always match the product's description. In the fairly unlikely event that some parts are missing, you will get a full refund. You will get your money back while being able to keep the item! Moreover, our customers usually get around 20 spare parts as a gift.
SHIPPING DETAILS
We deliver products both inside the United States and internationally:
US Domestic shipping: FREE.
Worldwide shipping: FREE.
Delivery time to addresses within the United States ranges from 20 to 35 days. Delivery time to international addresses might vary depending on the exact location.
COMPATIBILITY
All BrickArmyToys products are perfectly fit with LEGO elements and minifigures, all elements are designed and manufactured to the highest quality standards. Each BrickArmyToys element will fit into any brick set you already have!