The LTV A-7 Corsair II is an American carrier-capable subsonic light attack aircraft designed and manufactured by Ling-Temco-Vought (LTV).
The A-7 was developed during the early 1960s as replacement for the Douglas A-4 Skyhawk. Its design was derived from the Vought F-8 Crusader; in comparison with the F-8, the A-7 is both smaller and restricted to subsonic speeds, its airframe being simpler and cheaper to produce. Following a competitive bid by Vought in response to the United States Navy's (USN) VAL (Heavier-than-air, Attack, Light) requirement, an initial contract for the type was issued on 8 February 1964. Development was rapid, first flying on 26 September 1965 and entering squadron service with the USN on 1 February 1967; by the end of that year, A-7s were being deployed overseas for the Vietnam War.
683 Pieces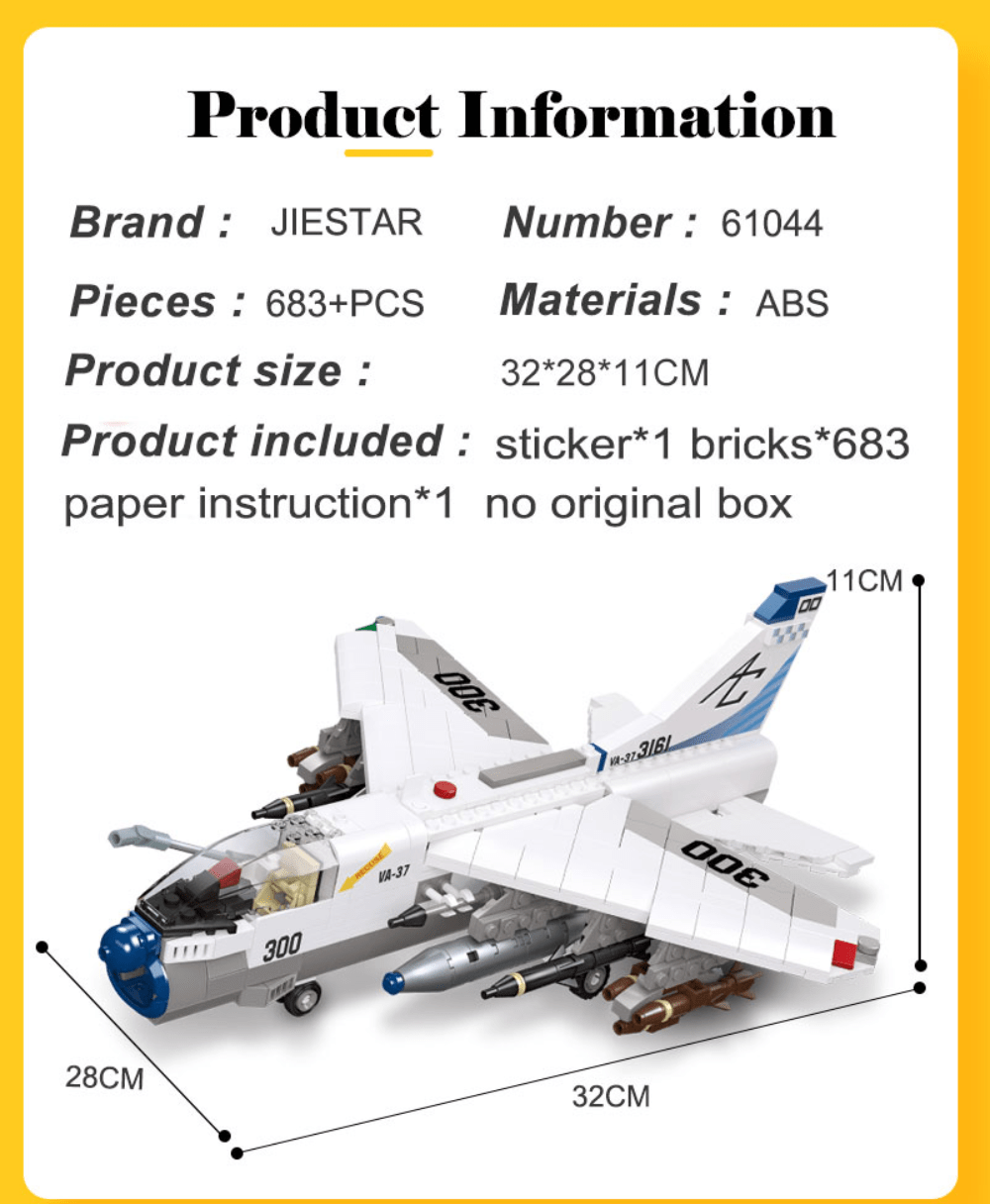 EVERY PRODUCT COMES WITH INSTRUCTIONS AND INCLUDES ALL PARTS
You will receive your item with all original parts. The contents of the package always match the product's description. In the fairly unlikely event that some parts are missing, you will get a full refund. You will get your money back while being able to keep the item! Moreover, our customers usually get around 20 spare parts as a gift.
SHIPPING DETAILS
We deliver products both inside the United States and internationally:
US Domestic shipping: FREE.
Worldwide shipping: FREE.
Delivery time to addresses within the United States ranges from 20 to 35 days. Delivery time to international addresses might vary depending on the exact location.
COMPATIBILITY
All BrickArmyToys products are perfectly fit with LEGO elements and minifigures, all elements are designed and manufactured to the highest quality standards. Each BrickArmyToys element will fit into any brick set you already have!