Dragon, also known as Dragon 1 or Cargo Dragon, was a class of fourteen partially reusable cargo spacecraft developed by SpaceX, an American private space transportation company. The spacecraft flew 23 missions between 2010 and 2020. Dragon was launched into orbit by the company's Falcon 9 launch vehicle to resupply the International Space Station (ISS).
During its maiden flight in December 2010, Dragon became the first commercially built and operated spacecraft to be recovered successfully from orbit. On 25 May 2012, a cargo variant of Dragon became the first commercial spacecraft to successfully rendezvous with and attach to the ISS. SpaceX contracted to deliver cargo to the ISS under NASA's Commercial Resupply Services program, and Dragon began regular cargo flights in October 2012. With the Dragon spacecraft and the Orbital ATK Cygnus, NASA sought to increase its partnerships with domestic commercial aviation and aeronautics industry.
816 Pieces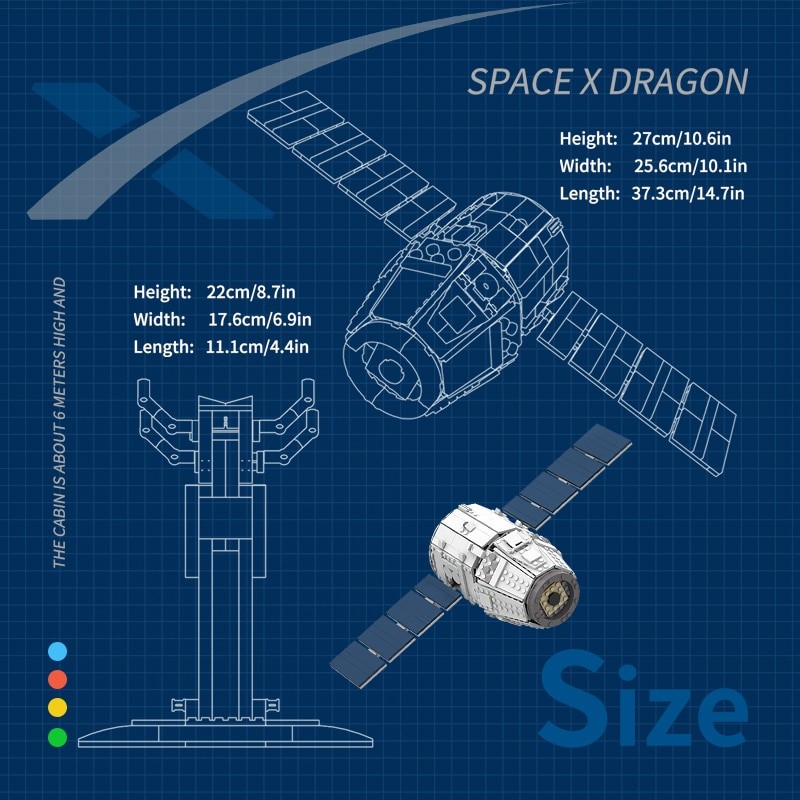 EVERY PRODUCT COMES WITH INSTRUCTIONS AND INCLUDES ALL PARTS
You will receive your item with all original parts. The contents of the package always match the product's description. In the fairly unlikely event that some parts are missing, you will get a full refund. You will get your money back while being able to keep the item! Moreover, our customers usually get around 20 spare parts as a gift.
SHIPPING DETAILS
We deliver products both inside the United States and internationally:
US Domestic shipping: FREE.
Worldwide shipping: FREE.
Delivery time to addresses within the United States ranges from 20 to 35 days. Delivery time to international addresses might vary depending on the exact location.
COMPATIBILITY
All BrickArmyToys products are perfectly fit with LEGO elements and minifigures, all elements are designed and manufactured to the highest quality standards. Each BrickArmyToys element will fit into any brick set you already have!