The Katyusha is a type of rocket artillery first built and fielded by the Soviet Union in World War II. Multiple rocket launchers such as these deliver explosives to a target area more intensively than conventional artillery, but with lower accuracy and requiring a longer time to reload. They are fragile compared to artillery guns, but are cheap, easy to produce, and usable on almost any chassis. The Katyushas of World War II, the first self-propelled artillery mass-produced by the Soviet Union, were usually mounted on ordinary trucks. This mobility gave the Katyusha, and other self-propelled artillery, another advantage: being able to deliver a large blow all at once, and then move before being located and attacked with counter-battery fire.
201 Pieces + 2 Minifigures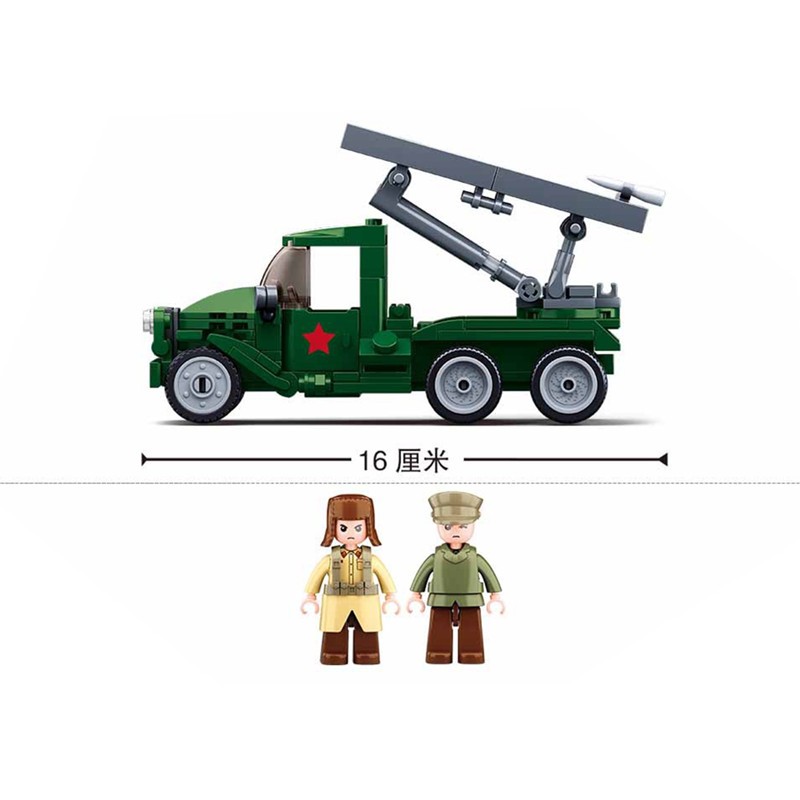 EVERY PRODUCT COMES WITH INSTRUCTIONS AND INCLUDES ALL PARTS
You will receive your item with all original parts. The contents of the package always match the product's description. In the fairly unlikely event that some parts are missing, you will get a full refund. You will get your money back while being able to keep the item! Moreover, our customers usually get around 20 spare parts as a gift.
SHIPPING DETAILS
We deliver products both inside the United States and internationally:
US Domestic shipping: FREE.
Worldwide shipping: FREE.
Delivery time to addresses within the United States ranges from 20 to 35 days. Delivery time to international addresses might vary depending on the exact location.
COMPATIBILITY
All BrickArmyToys products are perfectly fit with LEGO elements and minifigures, all elements are designed and manufactured to the highest quality standards. Each BrickArmyToys element will fit into any brick set you already have!