The Tupolev Tu-2 was a twin-engine Soviet high-speed daylight and frontline (SDB and FB) bomber aircraft of World War II vintage. The Tu-2 was tailored to meet a requirement for a high-speed bomber or dive-bomber, with a large internal bombload, and speed similar to that of a single-seat fighter. Designed to challenge the German Junkers Ju 88, the Tu-2 proved comparable, and was produced in torpedo, interceptor, and reconnaissance versions. The Tu-2 was one of the outstanding combat aircraft of World War II and it played a key role in the Red Army's final offensives.
311 Pieces + 1 Minifigures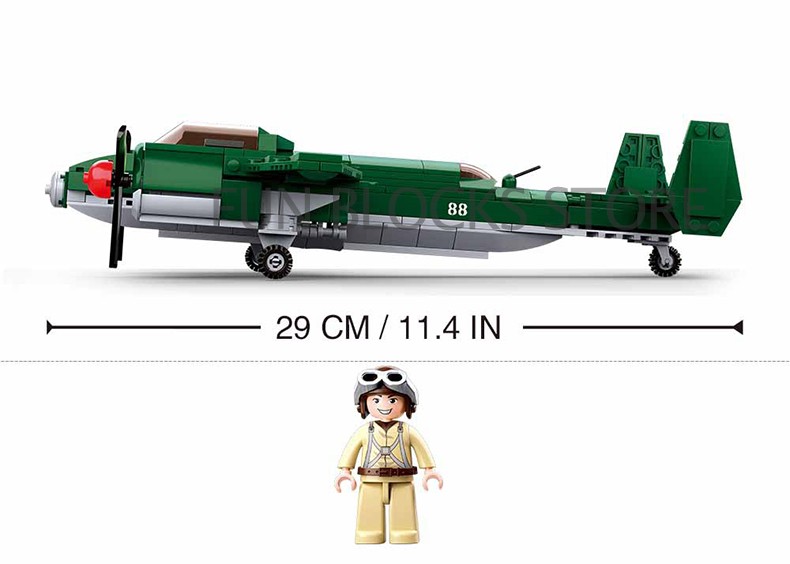 EVERY PRODUCT COMES WITH INSTRUCTIONS AND INCLUDES ALL PARTS
You will receive your item with all original parts. The contents of the package always match the product's description. In the fairly unlikely event that some parts are missing, you will get a full refund. You will get your money back while being able to keep the item! Moreover, our customers usually get around 20 spare parts as a gift.
SHIPPING DETAILS
We deliver products both inside the United States and internationally:
US Domestic shipping: FREE.
Worldwide shipping: FREE.
Delivery time to addresses within the United States ranges from 20 to 35 days. Delivery time to international addresses might vary depending on the exact location.
COMPATIBILITY
All BrickArmyToys products are perfectly fit with LEGO elements and minifigures, all elements are designed and manufactured to the highest quality standards. Each BrickArmyToys element will fit into any brick set you already have!