The
Tank, Infantry, Mk IV (A22) Churchill
was a British infantry tank used in the Second World War, best known for its heavy armour, large longitudinal chassis with all-around tracks with multiple bogies, its ability to climb steep slopes, and its use as the basis of many specialist vehicles. It was one of the heaviest Allied tanks of the war.
The origins of the Churchill's design lay in the expectation that war in Europe might well be fought in conditions similar to those of the First World War, and thus emphasised the ability to cross difficult ground. The Churchill was hurried into production in order to build up British defences against a possible German invasion. The first vehicles had flaws that had to be overcome before the Churchill was accepted for wide use. After several Marks (versions) had been built, a better-armoured specification, the Mark VII, entered service with the British Army. The improved versions performed well in the later stages of the war.
1031 Pieces + 4 Minifigures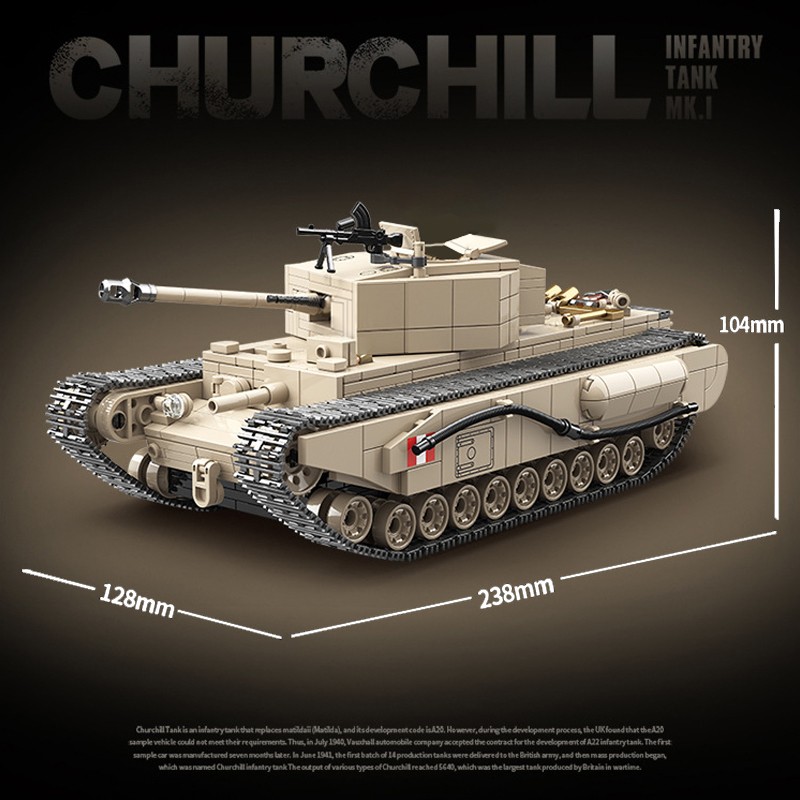 EVERY PRODUCT COMES WITH INSTRUCTIONS AND INCLUDES ALL PARTS
You will receive your item with all original parts. The contents of the package always match the product's description. In the fairly unlikely event that some parts are missing, you will get a full refund. You will get your money back while being able to keep the item! Moreover, our customers usually get around 20 spare parts as a gift.
SHIPPING DETAILS
We deliver products both inside the United States and internationally:
US Domestic shipping: FREE.
Worldwide shipping: FREE.
Delivery time to addresses within the United States ranges from 20 to 35 days. Delivery time to international addresses might vary depending on the exact location.
COMPATIBILITY
All BrickArmyToys products are perfectly fit with LEGO elements and minifigures, all elements are designed and manufactured to the highest quality standards. Each BrickArmyToys element will fit into any brick set you already have!