The T-44 medium tank came about as a successor to the world-famous T-34. However, it was a near-total redesign. It was made with the intention of having greater cross-country performance and more effective armor. In 1943, the plan was to mount the 85 mm (3.35 in) gun on a new, and improved platform, taking into account all the lessons learned from the T-34. However, when the T-34/85 was produced, it was clear that the T-44 lost out on its cutting edge design somewhat (as it shared some features with the T-34/85), and the design was considered less important than increasing T-34 production. Developing and producing a new vehicle would slow down overall production of tanks – something the Red Army could hardly afford, even by this stage of the war. The T-44 project was reworked later in the war, and although it was mass produced, it was still a very secretive design. The T-44 design was subject to some attempts to give it a larger armament after the war, which led directly on to the highly successful T-54/55 tanks.
534 Pieces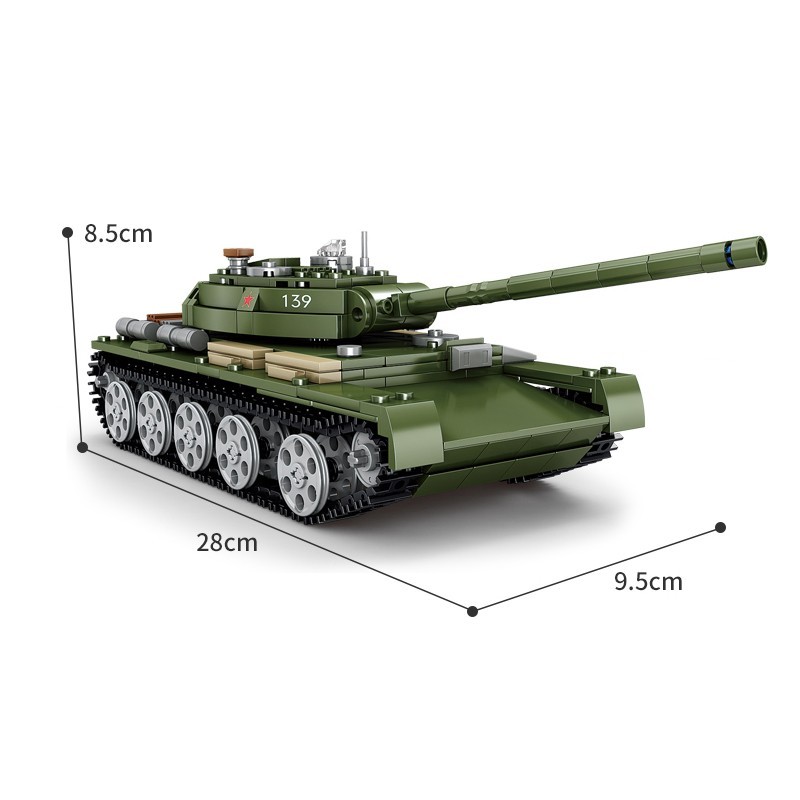 EVERY PRODUCT COMES WITH INSTRUCTIONS AND INCLUDES ALL PARTS
You will receive your item with all original parts. The contents of the package always match the product's description. In the fairly unlikely event that some parts are missing, you will get a full refund. You will get your money back while being able to keep the item! Moreover, our customers usually get around 20 spare parts as a gift.
SHIPPING DETAILS
We deliver products both inside the United States and internationally:
US Domestic shipping: FREE.
Worldwide shipping: FREE.
Delivery time to addresses within the United States ranges from 20 to 35 days. Delivery time to international addresses might vary depending on the exact location.
COMPATIBILITY
All BrickArmyToys products are perfectly fit with LEGO elements and minifigures, all elements are designed and manufactured to the highest quality standards. Each BrickArmyToys element will fit into any brick set you already have!