The Stryker is a family of eight-wheeled armored fighting vehicles derived from the Canadian LAV III. Stryker vehicles are produced by General Dynamics Land Systems-Canada (GDLS-C) for the United States Army in a plant in London, Ontario. It has four-wheel drive (8×4) and can be switched to all-wheel drive (8×8).
The Stryker was conceived as a family of vehicles forming the backbone of a new medium-weight brigade combat team (BCT) that was to strike a balance between heavy armor and infantry. The service launched the Interim Armored Vehicle competition, and in 2000, the service selected the LAV III proposed by GDLS and General Motors Defense. The service named this family of vehicles the "Stryker".
513 Pieces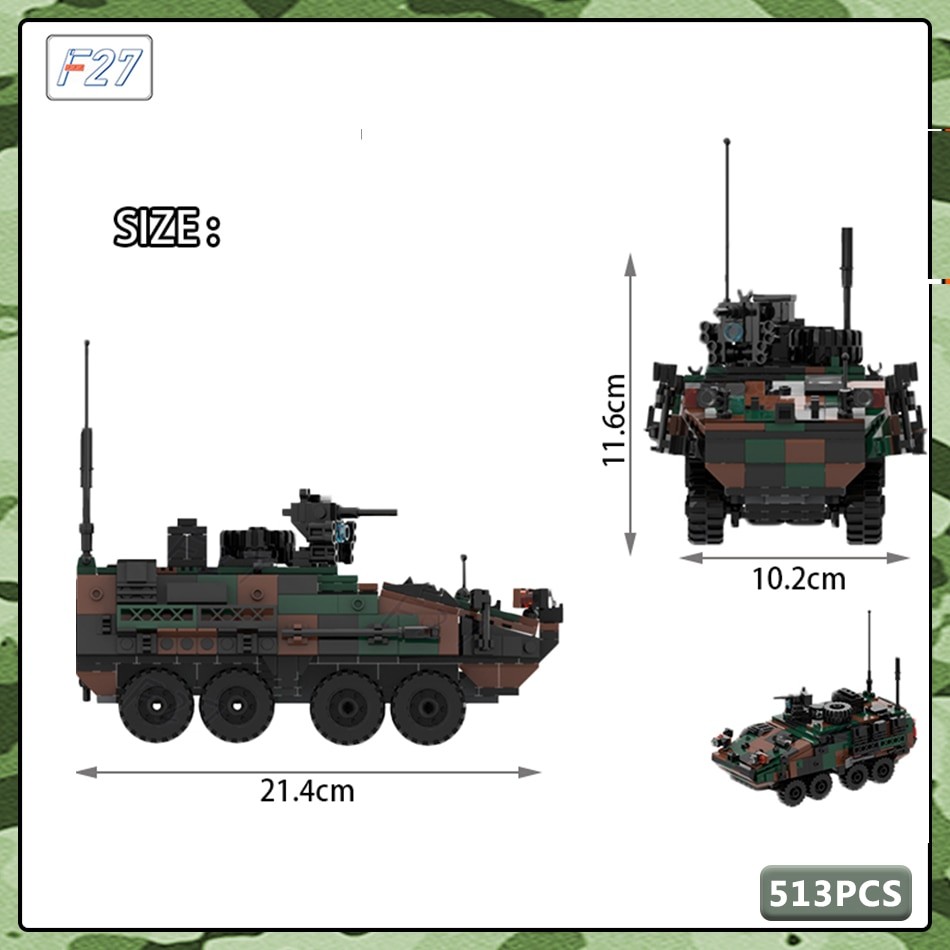 EVERY PRODUCT COMES WITH INSTRUCTIONS AND INCLUDES ALL PARTS
You will receive your item with all original parts. The contents of the package always match the product's description. In the fairly unlikely event that some parts are missing, you will get a full refund. You will get your money back while being able to keep the item! Moreover, our customers usually get around 20 spare parts as a gift.
SHIPPING DETAILS
We deliver products both inside the United States and internationally:
US Domestic shipping: FREE.
Worldwide shipping: FREE.
Delivery time to addresses within the United States ranges from 20 to 35 days. Delivery time to international addresses might vary depending on the exact location.
COMPATIBILITY
All BrickArmyToys products are perfectly fit with LEGO elements and minifigures, all elements are designed and manufactured to the highest quality standards. Each BrickArmyToys element will fit into any brick set you already have!