The T-34 is a Soviet medium tank introduced in 1940. Its 76.2 mm (3 in) tank gun was more powerful than its contemporaries while its 60 degree sloped armour provided good protection against anti-tank weapons. The Christie suspension was inherited from the design of American J. Walter Christie's M1928 tank, versions of which were sold turret-less to the Red Army and documented as "farm tractors", after being rejected by the U.S. Army. The T-34 had a profound effect on the conflict on the Eastern Front in the Second World War, and had a lasting impact on tank design. After the Germans encountered the tank in 1941 during Operation Barbarossa, German general Paul Ludwig Ewald von Kleist called it "the finest tank in the world" and Heinz Guderian affirmed the T-34's "vast superiority" over German tanks. Alfred Jodl, chief of operations staff of the German armed forces noted in his war diary "the surprise at this new and thus unknown wunder-armament being unleashed against the German assault divisions," although its armour and armament were surpassed later in the war.
1113 Pieces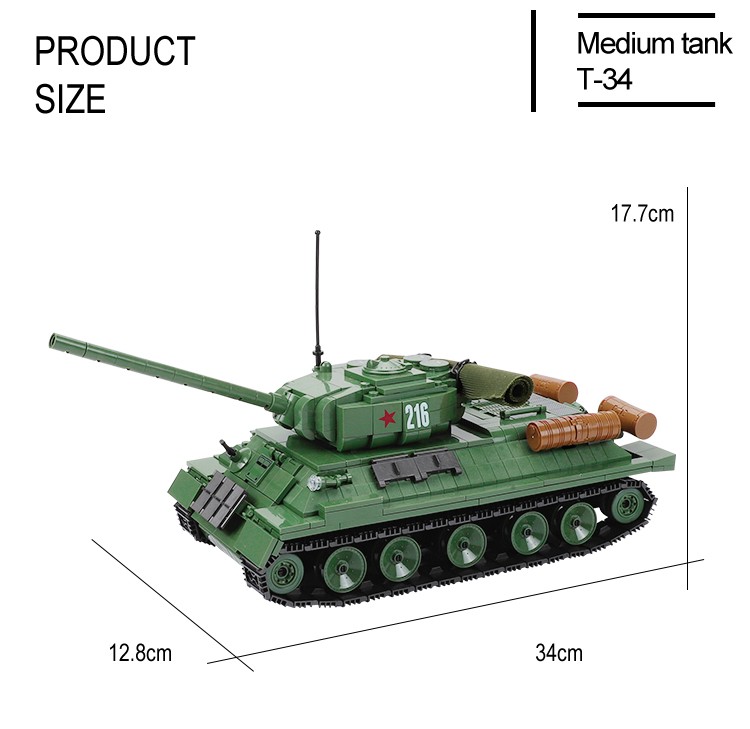 EVERY PRODUCT COMES WITH INSTRUCTIONS AND INCLUDES ALL PARTS
You will receive your item with all original parts. The contents of the package always match the product's description. In the fairly unlikely event that some parts are missing, you will get a full refund. You will get your money back while being able to keep the item! Moreover, our customers usually get around 20 spare parts as a gift.
SHIPPING DETAILS
We deliver products both inside the United States and internationally:
US Domestic shipping: FREE.
Worldwide shipping: FREE.
Delivery time to addresses within the United States ranges from 20 to 35 days. Delivery time to international addresses might vary depending on the exact location.
COMPATIBILITY
All BrickArmyToys products are perfectly fit with LEGO elements and minifigures, all elements are designed and manufactured to the highest quality standards. Each BrickArmyToys element will fit into any brick set you already have!